Coolant Fluid Exchange Service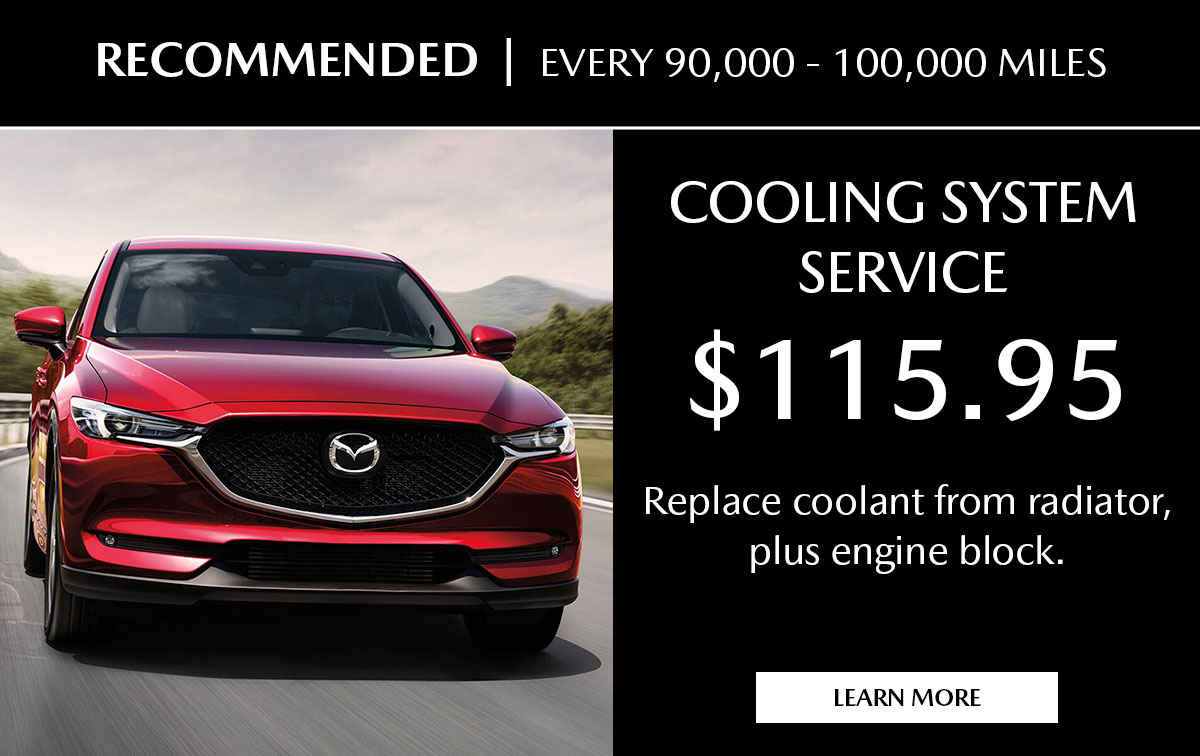 Coolant Fluid Exchange at Cutter Mazda Waipahu
We operate a Mazda certified service department offering a coolant fluid exchange service by certified technicians in a state-of-the-art facility. We know the engine cooling system and its maintenance professionally, so there is no need to risk substandard service at an independent service shop. We can remove the old coolant fluid, inspect the engine cooling system, and install fresh, genuine OEM coolant of the highest quality quickly and conveniently. Be sure to check on our current service specials for your next coolant fluid exchange to collect enhanced value on high-quality service at Cutter Mazda Waipahu.
The Engine Cooling System and Coolant Fluid 101
The engine cooling system keeps the engine cool by pumping coolant fluid through the engine where it collects heat and is then cooled at the radiator. Coolant fluid completes this cycle throughout its life and requires routine inspections and exchange service when found to have lost integrity through contamination or leaking.
---
Why Does the Coolant Fluid/Antifreeze Require Exchange Service?
Coolant fluid requires routine inspections and needs to be changed because it is vital to keep the engine from overheating and is prone to contamination or leaking from worn and damaged components. A coolant fluid maintenance interval is found in the owner's manual that varies according to the model and year. It is important for engine performance and longevity for you to have the coolant fluid inspected and exchanged as recommended.
What Happens When Coolant Fluid is Neglected?
Coolant fluid neglect is a problem for the engine, as it is vital to keep the engine cool. If the coolant fluid leaks or gets contaminated, its ability to absorb and disperse heat will be compromised, with the greatest consequence being an overheating engine with catastrophic damage.
What are the Symptoms of Defective Coolant Fluid?
Defective coolant fluid will not perform well at keeping the engine cool. If you notice any of these symptoms, it is important to get a prompt inspection and exchange the coolant fluid if found leaking or contaminated. Here are the telltale symptoms of defective coolant fluid:
Temperature gauge is hotter than normal
Smoke or steam exiting from under the hood
Decreased fuel efficiency
Coolant is low
Exhaust smoke is white
Coolant found leaking or puddled on the ground
Schedule Service
Cutter Mazda of Waipahu Service Amenities
Trained Professional Service Advisors
First Time Fix Guarantee
Complimentary Shuttle Service
After Hours Drop-off
Military Discounts
Complimentary Coffee and Tea
Extended Hours
Cable TV
12 Month 12,000 Mile Warranty on All Repairs
Safety Inspections
Dealer Wallet Service Marketing & Fixed Ops SEO by