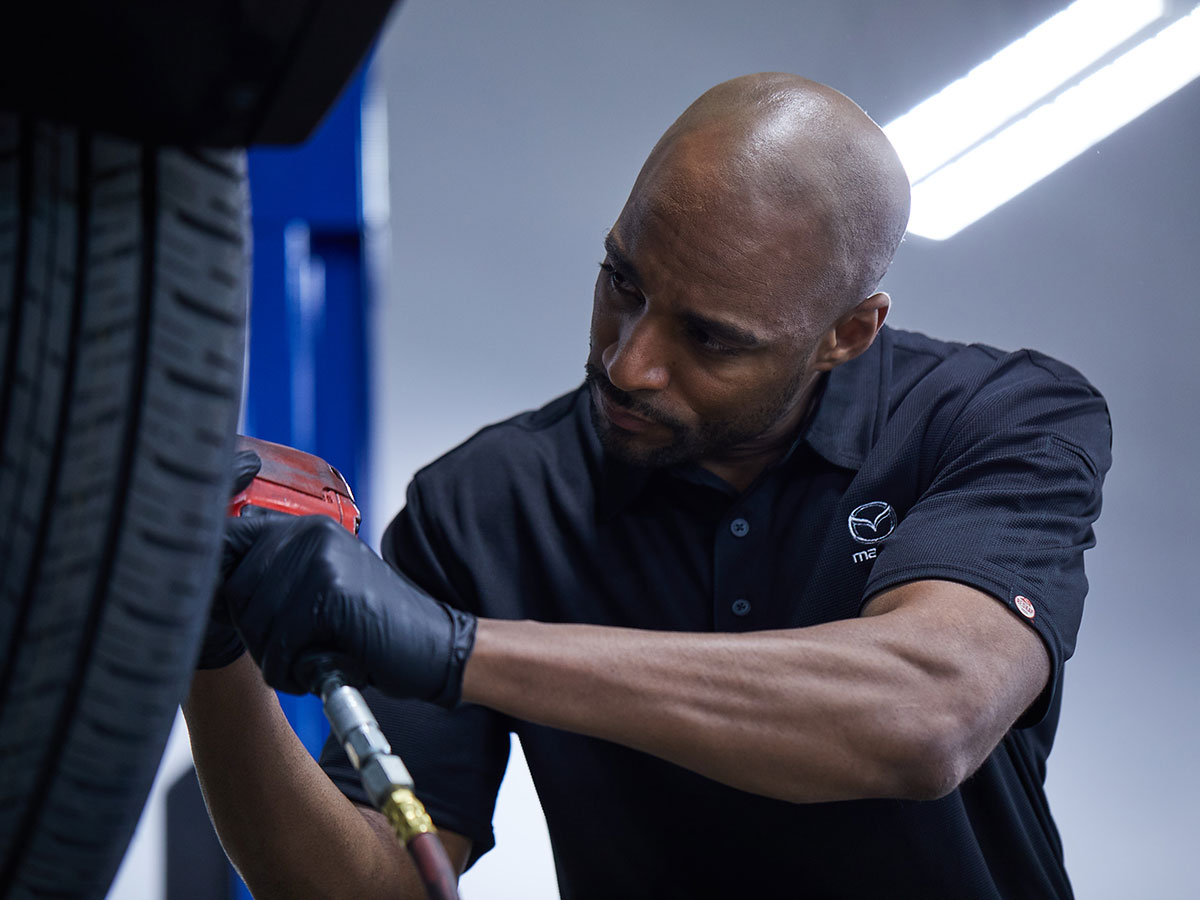 Tire Rotation Service at Cutter Mazda Waipahu
We operate a Mazda certified service department in Waipahu with certified technicians that can perform your Mazda's tire rotations. We provide quick tire rotations, including a tire inspection with tread depth measurement and inflation check. We will also inspect the exposed braking components when the wheel assemblies are removed and will reposition the wheel-tire assemblies using the certified tire rotation diagram. This will help to ensure tires wear evenly with optimum tread for safe driving. When your Mazda is due for its next tire rotation, you should bring it to Cutter Mazda Waipahu.
Tire Rotation 101
Tire rotation is repositioning the wheel-tire assemblies from the current position to another. The service is considered to be necessary for healthy tires. Mazda recommends rotating tires every 5,000 to 7,500 miles with your specific model's interval found in the owner's manual. There is a tire rotation pattern used to guide where each wheel assembly is repositioned. The primary benefit of rotating tires as recommended is even wear across a set of tires.
Why is Rotating Tires Necessary Maintenance?
Each wheel position handles different weights and pressures, with front tires handling more weight and steering forces. If tires are left in the same position, they will wear at variable rates due to the variable load-bearing. When rotating tires at the specified interval, it will expose all tires to the same load-bearing forces over time as each tire will be positioned in every wheel position after 3 rotation services post-installation.
What Happens When Tires are not Rotated?
When tire rotation does not happen, the tires will wear rapidly and unevenly. Tires with rapid wear will then cause worse problems stemming from the damage in a range of warning signs signaling that tire rotation has been neglected. Here is what you can expect out of your driving experience if tire rotation service does not occur:
Rapid and uneven tire wear
Poor traction in slippery conditions
Hydroplaning
Increased risk of punctures and blowouts
Safety (see below)
Tire Rotation, Rapid Tire Wear, and Safety
Not rotating tires as recommended is a safety issue due to the rapid tire wear with the inadequate tread that it causes. According to a National Highway Traffic Safety Administration report, poor tread depth is the cause of 25% of tire-related accidents. It is a safety-conscious decision to rotate tires as recommended to secure adequate tread depth with optimum traction.
Schedule Service